Hosts
Jessi Cruickshank & Jeff Douglas
Broadcast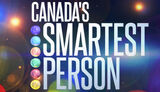 CBC: 9/28/2014-present
Canada's Smartest Person is a new interactive television series that redefines what it means to be smart as they'll shatter the myth that to be smart you need to have a high IQ, be a math wiz or a trivia buff.
Each week four new hopefuls battle it out in front of a live studio audience in six categories of smarts: musical, physical, social, logical, visual and linguistic. In the series finale, eight finalists will go head-to-head to earn the title of "Canada's Smartest Person".
Official Website
Official Facebook page
Official Twitter page
Ad blocker interference detected!
Wikia is a free-to-use site that makes money from advertising. We have a modified experience for viewers using ad blockers

Wikia is not accessible if you've made further modifications. Remove the custom ad blocker rule(s) and the page will load as expected.