Host
Louis Morisset
Fernand Seguin
Broadcast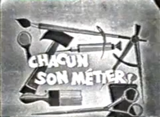 Radio-Canada: 1954-1959
Chacun Son Métier ("To Each His Job/Trade") is a Canadian-French speaking adaptation of the American game show What's My Line?.
On January 23, 1955, panelists Nicole Germain appeared as a contestant in the first round on the American version, then sat next to Bennett Cerf for the second round.
On January 18, 1959, near the end of the French-Canadian run, host Louis Morisset appeared as a contestant on the American version of the show.
YouTube Link
Edit