Hosts
Bob McLean (1974-1975)
Jim Perry (1975-1989)
Announcers
Jim Perry (1974-1975)
Dave Devall (1975-1989)
Broadcast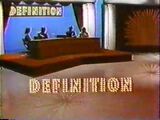 CTV: 9/9/1974 – 3/10/1989
Packager
Glen-Warren Productions
"Definition: (insert clue). Solution: (insert answer). And our solution to 'fun with the fun on television' is: DEFINITION! And now (insert comical line) the host/star of our show, BOB McLEAN/JIM PERRY!"
Definition was the "Give & Take" word puzzle game that's got fun with a pun.
Two teams of two (consisting of one celebrity & one contestant (and starting in 1986, two contestants)) competed in a word game similar to Hangman and the future American Wheel of Fortune but with clues called "definitions"; and the answers were puns which answered the definitions.
To start, the announcer gave the definition accompanied by the word puzzle and the host repeated it. The team in control chose a letter to "give away"; that's a letter they thought was not in the puzzle. If it wasn't, then they could choose a letter they thought was in the puzzle, a letter they could "take". Each time a chosen letter was revealed, either team could guess depending on what kind of letter it was. If it was a take away letter, the team that chose that letter got to guess; but if it was a give away letter, the opposing team got a guess and control stayed on them if they didn't guess right. Teams played back and forth until the puzzle was solved.
The first team to solve two puzzles (three for all civilians) won the match, a special prize and the right to solve a bonus puzzle for cash.
Bonus Puzzle
Edit
At the bonus puzzle, the winning team was given the definition to that puzzle and then letters in that puzzle were revealed in alphabetical order from left to right. As soon as the team solved it, the contestant(s) received $10 a blank. If they failed to solve the puzzle, $10 was still given as a consolation prize.
---
Winning players/teams stayed on the show for up to five matches. The fifth match had the contestants play for a bigger prize.
1st Main - "Soul Bossa Nova" by Quincy Jones
Inventors
Edit
Nick Nicholson and E. Roger Muir
Ad blocker interference detected!
Wikia is a free-to-use site that makes money from advertising. We have a modified experience for viewers using ad blockers

Wikia is not accessible if you've made further modifications. Remove the custom ad blocker rule(s) and the page will load as expected.