Host
Joseph "Joe" Motiki
Broadcast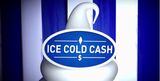 Food Network Canada: 2012
Packagers
Architect Films
Ice Cold Cash is a fun and fast-paced food-based trivia that will whip up your brain and tenderize your funny bone.
In each half-hour episode, he viewer plays along with the contestant as they flex their mental muscle, answer questions that become increasingly difficult. The first question is worth $10 dollars and ridiculously easy. However, with every question after that, the contestants' money doubles...potentially up to more than $5,000. But one wrong answer can make the cash melt away, but this is a fell-good show so everybody wins something in the end. There are no complicated rules, no lifelines, just lots of laughs and a fountain of fascinating food facts on Ice Cold Cash.
About Joe
Edit
When Joe's not moderating the games, he's scouring the parks, streets and beaches for unsuspecting folks to answer one-off trivia question for cash. Joe also shows obscure gadgets and little-known edibles while testing their culinary vocabulary and sense of humor. And you won't believe the things he convinces people to bite, taste and try to pronounce.