Host & Hostess
Fergie Oliver and Cathy Swing
Broadcast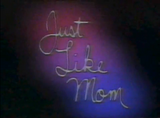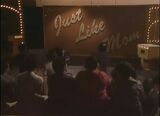 Syndicated: 1980-1985
Packager
Fergie Oliver Productions
OPENING SPIEL #1: Announcer: Look out Mom, here we come! The surprise is yours on JUST LIKE MOM! Kid Contestant: Hi/Hello, my name is (insert name) from (insert location)! Welcome to Just Like Mom! (AND NOW,) HERE'S FERGIE AND CATHY!
OPENING SPIEL #2: Kid: Here we come! (montage of clips from the show) Kid: It's Just Like Mom! 
Just Like Mom was a children's/family game show that had the elements of the Newlywed Game but with kids and their parents participating in the game.
Three teams compete. Each team consists of one kid and his/her mother (or sometimes father). The teams have chances to win prizes during the game.
Round 1: Question Time
Edit
In the first half, the parents are isolated off the stage and the kids answer questions by choosing categories. Then, when the kids are complete finishing the questions, the parents will try to match their answers. In the first half, the first question was worth 10 points while the second question was worth 15 points. In the second half, the question procedures are the same but this time the first question was worth 20 points while the second question was worth 25 points.
Round 2: Bake-off/Taste Test
Edit
In between the question rounds, the kids had a bake off and had to complete a recipe in less than a minute (60 seconds). They were given basic ingredients for certain foods and were allowed to use whatever they wanted in their cooking. Then, after the second question round, the parents were asked to taste the creations in less than 30 seconds while the kids were isolated off stage. They had to determine which kid made this type of food by holding up a sign with a number on it. A correct match received 50 points.
Bonus Round: The Wheel
Edit
For the final round, the bonus round, the winning team with the highest score went on to spin a prize wheel. If there was a tie, both teams would spin the wheel for a prize. Wheel prizes on the show consisted as a trip to Walt Disney World (grand prize), a birthday party at any Chuck E. Cheeses in Canada, appliances, John Deere and Playmobil toys, and many others.
YouTube Links
Edit
Full Episode
Part 1
Part 2
Part 3

Ad blocker interference detected!
Wikia is a free-to-use site that makes money from advertising. We have a modified experience for viewers using ad blockers

Wikia is not accessible if you've made further modifications. Remove the custom ad blocker rule(s) and the page will load as expected.