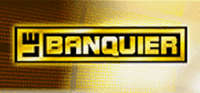 Le Banquier (The Banker) was a Quebec game show based on Deal or no Deal which in turn was based on a dutch format called Miljoenenjacht (Hunt for Millions).
Broadcast
Edit
TVA: January 24, 2007 – May 21, 2017
Julie Synder
Case Models
Edit
Monika holds case #1
Sophie holds case #2
Kate holds case #3
Marie-Pier B. holds case #4
Karine holds case #5
Maripier M. holds case #6
Christine holds case #7
Julia holds case #8
Sabine holds case #9
Tyo holds case #10
Karina holds case #11
Gaiia holds case #12
Nadja holds case #13
Véronique Landry holds case #14; also a case model on the English Canadian version, where she held case #7
Cécile holds case #15
Vicki holds case #16
Sofia holds case #17
Martine holds case #18
Marie-Pier V. holds case #19
Oksana holds case #20
Emmanuel holds case #21
Manuel holds case #22
Tom holds case #23
Marc holds case #24
Jean-François holds case #25
David holds case #26
As this version of the franchise is produced by the US arm of Endemol, the rules are played similar to the American version: The number of cases opened in each round stars with six cases in round one, then five in round two, and so on, all the way down to one case in round six and subsequent rounds. The game itself was practically the same as the American version, except that the largest cash prize is $500,000 (original to have been $250,000) and it's tax free Canadian money. Of the 26 models, six of them are men, holding cases 21 through 26. This is in contrast to the other versions airing in North America in primetime that uses permanent female models (Deal or no Deal (US), Vas o no Vas & Deal or no Deal Canada).
In addition, Like the U.S. version, some of the offers may be prizes tend to be what the contestant wants. For example, on the first episode (originally aired on January 24, 2007) one contestant was offered $15,000, plus a mountain bike worth $1,000 (as their was an E.T. joke going on) plus tickets to see the Montreal Canadiens NHL hockey team play at an upcoming game against the Carolina Hurricanes.
The highest amount won thus far was is $240,000, through a bank offer. On he final episode of the first season (originally aired on March 29, 2007) the last contestant played for a top prize of $750,000 (replacing the $125,000). Before February 21, 2007. there was a $2,500 amount on the board which was then replaced with $125,000.
Like in its U.S. counterpart, there may also be some special prizes that were not attached to any offer. In the first episode, then Canadiens' defenseman Sheldon Souray (now with the Edmonton Oilers) appeared in a video to wish a contestant luck and gave him an autographed Hockey stick. Another example is where a contestant was offered a trip for 5 people to Las Vegas tickets to see Celine Dion in concert and having a chance to meet her in person. A premise that was unique to this version was that if an offer with a prize attached is rejected by the contestant, then a member of the studio audience (via random drawing) will win the prize. the show was also used as a venue to propose a marriage during the second offer of the January 24 episode, a contestant got engaged.
Current Suitcase Values
Edit
| | |
| --- | --- |
| $0.01 | $1,000 |
| $1 | $5,000 |
| $5 | $10,000 |
| $10 | $25,000 |
| $20 | $50,000 |
| $50 | $100,000 |
| $75 | $125,000 |
| $100 | $150,000 |
| $200 | $175,000 |
| $300 | $200,000 |
| $400 | $300,000 |
| $500 | $400,000 |
| $750 | $500,000 |
The imaging used in this version including the money board, captions and audio cues that were similar to that of the U.S. version as both Fish Eggs (graphics) and Groove Addicts (music) respectively are involved. In addition, like it's NBC primetime counterpart from the U.S., TVA also has their own Lucky Case game, though the luck winner wins a prize instead of cash; the cases are revealed one at a time from left to right.
It used the same theme as the American version, by Groove Addicts.
Based on the Dutch show Miljoenenjacht by Richard Del Rijk
Ad blocker interference detected!
Wikia is a free-to-use site that makes money from advertising. We have a modified experience for viewers using ad blockers

Wikia is not accessible if you've made further modifications. Remove the custom ad blocker rule(s) and the page will load as expected.