Hosts
Patrice L'Ecuyer (1990-1994, 1999-2001)
Marc-Andre Coallier (1994-1995)
Broadcast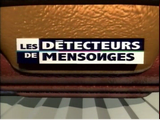 Radio-Canada: 1990-1994, 1999-2001
TQS: 1994-1995
Les Détecteurs De Mensonges (Lying Detectors) was a French-speaking Canadian game show.
On each show, three guests artists each had three statements one of which is false. The artist on the spot had to deceive the other two guests as well as the public composed of 28 people. A highlight of the show was when the host read a joking proverb while the audience votes were counted just before the guests confessed his or her lie. Several false proverbs were (falsely) attributed to Confucius. If no one in the audience discovered the lie, the artists won a trophy.
Ad blocker interference detected!
Wikia is a free-to-use site that makes money from advertising. We have a modified experience for viewers using ad blockers

Wikia is not accessible if you've made further modifications. Remove the custom ad blocker rule(s) and the page will load as expected.