Host
Michel Desrochers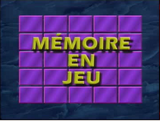 Radio-Canada: 1993-1994
Memoire en jeu (Memory in Play) was a French-speaking Canadian game show.
Two teams in opposite to try to memorize a maximum of objects revealed on a large painting. The objects thus retained turn into prizes to be won.
Ad blocker interference detected!
Wikia is a free-to-use site that makes money from advertising. We have a modified experience for viewers using ad blockers

Wikia is not accessible if you've made further modifications. Remove the custom ad blocker rule(s) and the page will load as expected.